snowshoe hikes
AT NATURE's own pace
Come and follow animal tracks, discover the forest and admire the wonderful views of the Capcir Plateau. You will discover the mountain by other means.

Varied programme and itineraries: from the Lac de Balcère to the Vallée du Galbe, through the wonderful natural site of the Camporells, come and enjoy wonderful views of the Lac de Puyvalador or of Matemale.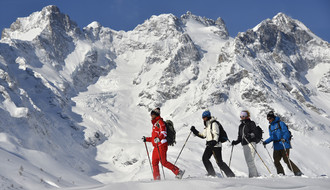 Timetable


Whole season
1/2 day, full day or nocturnal
Snowshoes and ski poles are not provided.
Prices for snowshoe outingsGroup outings from 5 people - Price per person

Duration Price Children Price Adults
1/2 day
17 €/pers.
24 €/pers.
Discovery day
27 €/pers.
34 €/pers.
Athletic moutain day outing (you will be equipped with all the necessary equipment, shovel, probe, avalanche transceiver...)

57 €/pers.
57 €/pers.
Nocturnal
27 €/pers.
27 €/pers.
NORDIc ski
Light skis
No matter the technique you choose, whether it is "original" or "skating", the most important
thing is that you enjoy it!
A few hours with one of our instructors will enable you to discover all the ticks of
ski touring.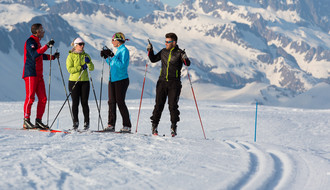 TimetableSeason 2018 - 2019


Whole season
6 consecutive days
Weekend (off-peak period)
2 consecutive days
Whole season
2 hours or 4 hours
prices for nordic ski
Group outings - Price per person

Weekly card 6 consecutive days (5 days + 1 day offered 6x2h)
169 €
Day ticket 2h
39 €