Snowboard
group lesson
FOR BEGINNERS AND EXPERTS
Children or adults, don't wait any longer! Come and discover the sensations snowboard has to offer.
There is no need to know how to ski to become a snowboarder.
In a few half-days you will be able to take your mark and glide down the slopes of Formiguères ski resort.
Learn more about Snowboarding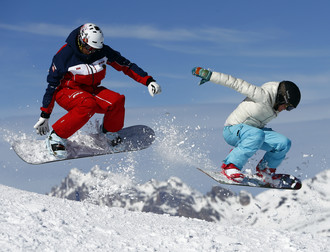 Timetable


CHRISTMAS holidays
Week & Weekend
10am-12pm / 1pm-3pm / 3pm-5pm
Winter holidays
Week & Weekend
9am-11am / 11am-1pm / 1:30pm-3:30pm / 3:30pm-5:30pm
Off-peak periods
Week & Weekend
10am-12pm / 1pm-3pm
Prices do not include insurance and ski passes.
Prices - snowboard course
Test and medal included in the weekly course

Weekly course: 6 consecutive days (5 days + 1 day offered so 6x2h*)
155 €
Day ticket of 2h
36 €
Weekend ticket (hors vacances scolaires : 2 jours consécutifs 2 x 2h)
65 €
*Test on Friday + medal included (for group lessons)
The ESF does not insure your child!
Be sure to take out
an insurance
, so you are covered in case of injury!