Ski lessons for children
FROM beginner LEVEL to expert LEVEL
2h of ski for the 6/15 years old
A fun and educational programme to facilitate and improve gliding sensations. Throughout the whole week, students will make progress at their own pace and make a step towards autonomy.
GOALS
Gain in confidence, enjoy, express yourself, make progress, improve your technique...
TEST YOUR LEVEL
On Fridays, the last 15 minutes of your lesson are dedicated to make an assessment of the week and the results of your test, with the instructor.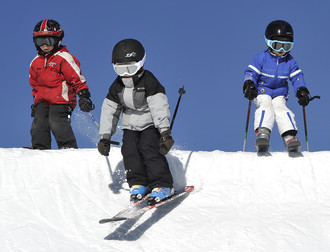 Timetables


CHRISTMAS holidays
Week & Weekend
10am-12pm / 1pm-3pm
Winter holidays
Week & Weekend
9am-11am / 11am-1pm / 13:30pm-3:30pm / 3:30pm-5:30pm
Off-peak period
Week & Weekend
10am-12pm / 1pm-3pm Contact us
Prices do not include insurance and ski passes.
Prices - Group lessons for childrenTest and medal included in the weekly course

Weekly course: 6 consecutive days (5 days + 1 day offered so 6x2h*)
155 €
Weekly course competition: 6 consecutive days (5 d. + 1 day offered so 6x2h*)

155 €
Day ticket of 2h
36 €
Day ticket competition of 2h
36€
Weekend ticket (off-peak period: 2 consecutive days 2 x 2h)
65 €
* Test on Friday + medal included (for group lessons)

TIMED TESTEvery Thursday and Friday during school holidays.

Chamois, Flèche, .... (enrolement until previous day at 5pm)
9 €

Torchlight descent
Every Thursday during school holidays Departure in front of the ESf at 6:30pm

Torchlight descent for skiers only: (SNOWBOARD PROHIBITED)
Torchlight descent (flocon mini level - free electric torchlight)
7 €
Big torchlight descent (3ème étoile level minimum - Red slope)
7 €
The ESF does not insure your child!
Be sure to take out an
insurance
, so you are covered in case of injury!